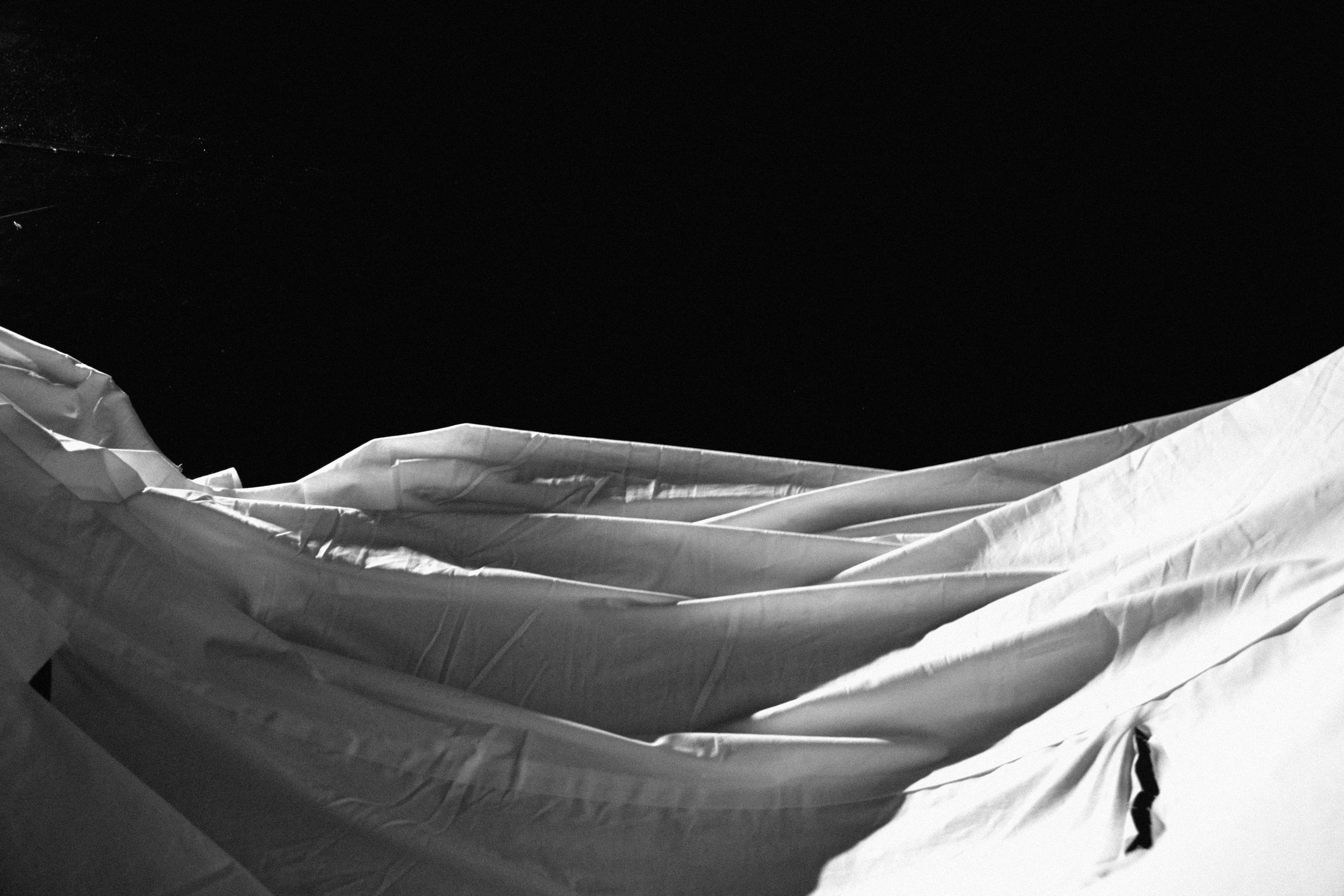 What happens to conversation when the word in language is half someone else's?
c.along #6 The Sound of Our Speech is All That We Are
Corrine Fitzpatrick & Sara Magenheimer
June 15th, 2015
7pm — 9pm
ccap / c.off studio, Körsbärsvägen 9, Stockholm

On Monday June 15th 2015, 18 people participated in c.along #6 by Corrine Fitzpatrick, poet based in Brooklyn, and Sara Magenheimer, artist based in New York. For two hours, performers of c.along #6 explored the matter of voice(s) in dialogue, and experimented with the idea of a voice that belongs to more than one subject as well as with the transformation of a monologue into a dialogue.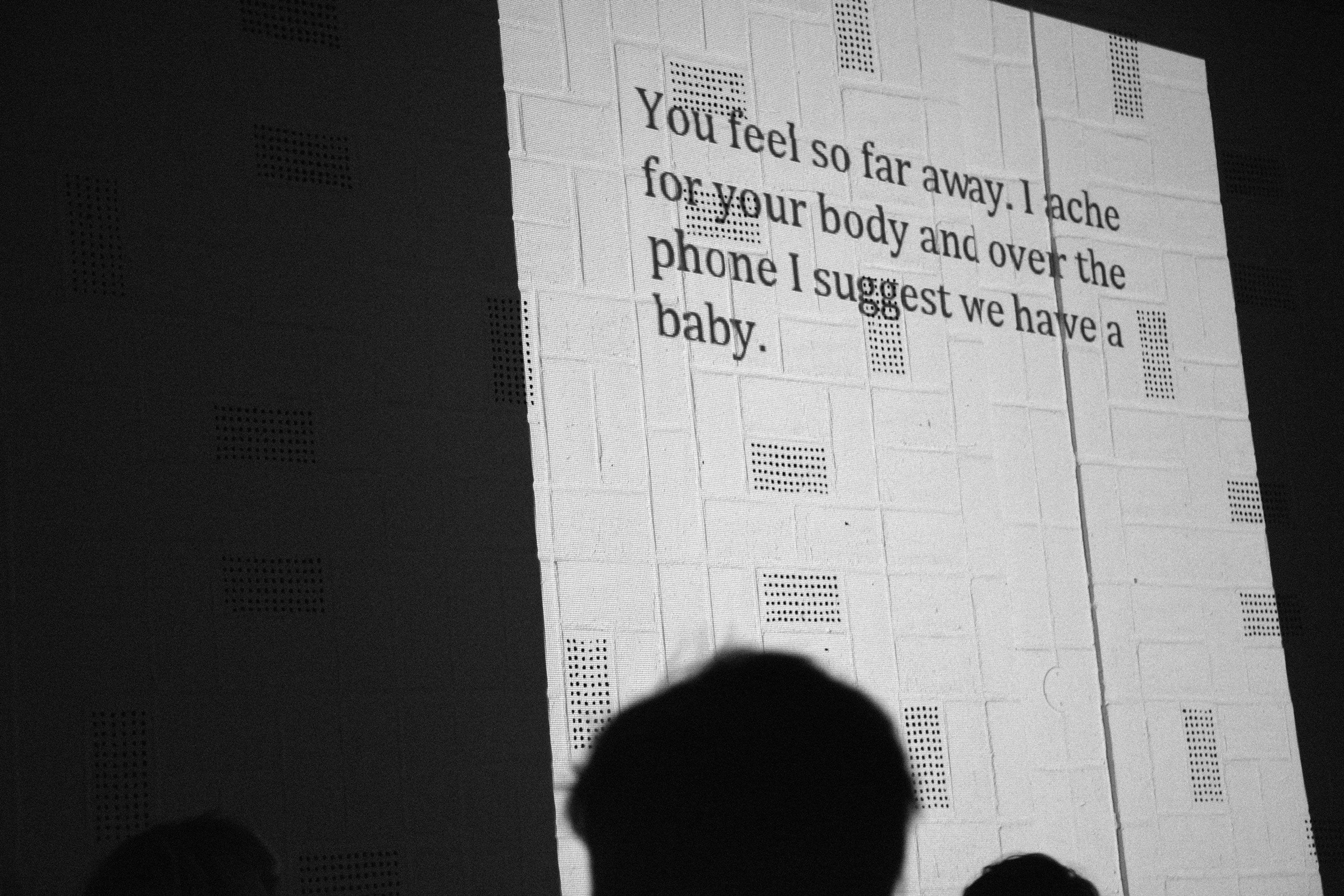 Participants were invited to enter a shared body with multiple heads, made out of a large, white cloth. A script from a previous monologue piece by Magenheimer had been split into a dialogue that was projected onto two walls. A reading was performed, during which the artists jointly and intuitively choreographed a movement for the shared body. This also further dislocated the speaking subject as well as added to the split of the dialogue, since the artists shifted from wall to wall and from script to script.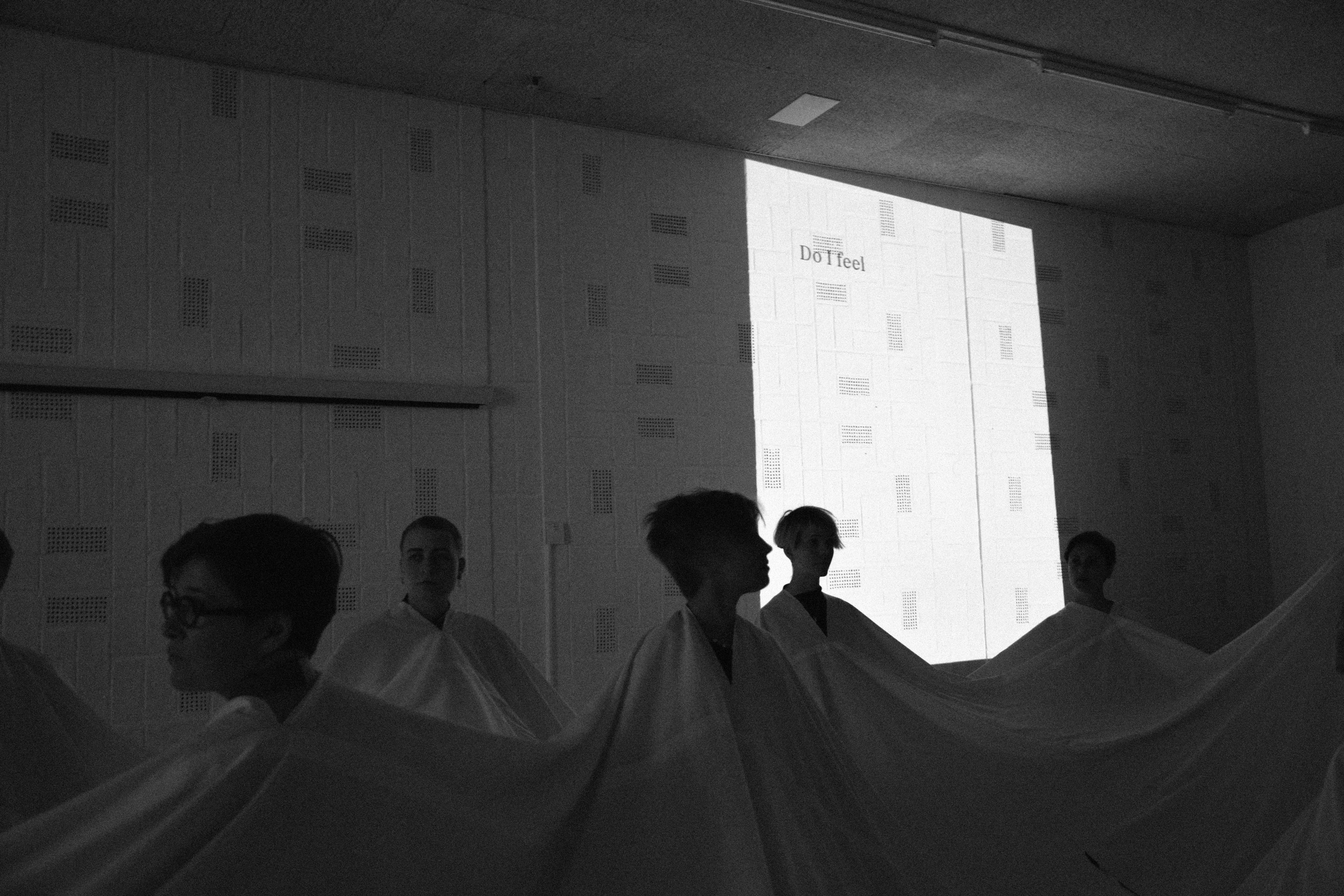 Roxy Farhat, artist based in Stockholm, has remixed the video documentation of c.along #6, also titled The Sound of Our Speech is All That We Are. In this video work, Roxy performs a sort of remix of the c.along which even further dislocates the speaking subject — this time to a programmed computer voice — and which visually also splits the shared body into two by mirroring them. With a jingle accompanying the extract of the reading, the video emphasizes the questions of logics, linearity, coherence and sense that the texts — and the project at large — are investigating.
Scripts:

Sara Magenheimer and Corrine Fitzpatrick

Video remix:

Roxy Farhat

Choreography:

Cajsa Wadhia, Carl Åkerlund, Corrine Fitzpatrick, Cristina Caprioli, Emily Roysdon, Frida Sandström, Hanna Kisch, Hanna Wildow, Imri Sandström, Izabella Borzecka, Kajsa Sandström, Lawen Mohtadi, Marie Gavois, Michel Klöfkorn, Sara Kaaman, Sara Magenheimer, Sofie Westerberg, Tora Botwid
PDF ARCHIVE: